Family Dispute Resolution

NEGOTIATION
What is it and how does it work?
It's a discussion aimed at reaching an agreement. You and your spouse can negotiate directly or with assistance of lawyers.
What do you need?
Empathy, patience, flexibility and creativity.
MEDIATION
What is it and how does it work?
It is a confidential and voluntary process of conflict resolution when a neutral mediator assists the parties in coming to an acceptable agreement on the issues in dispute. You and your spouse attend a series of meetings with your mediator who facilitates your discussions and creates a memorandum of your agreement at the end of the process, but is not allowed to give you legal advice.
What do you need?
To agree to choose a mediator, attend sessions, participate in discussion, provide requested documents in time, attend the first session to review the agreement and pay for the service. It might be helpful to make the phone call with your spouse present so you both hear the mediator's response and can make an informed decision.
COLLABORATION
What is it and how does it work?
Collaborative Divorce is a respectful process for resolving conflict with the help of specially trained lawyers and other professionals, without going to court.  Each spouse is represented by his or her own lawyer from start to finish, with the additional support of other professionals, as required. You and your lawyer and your spouse and his/her lawyer attend a series of 4-way meetings during which you have discussions in order to create a mutually acceptable agreement on all of the issues.  At the end of the process the lawyers draft a legally binding contract which each of you signs with your respective lawyer.
What do you need?
A lawyer trained in collaborative process and your commitment to pay for the service. Do not hesitate to call or go for a brief consultation with the collaborative lawyer so you can choose the one you are most comfortable with. Once you have committed that is the way to go, try to convince your spouse as well so you could both benefit from this effective dispute resolution process.
LITIGATION
What is it and how does it work?
It is the process of taking legal action. Ask a litigation lawyer.  In my view, family disputes should be resolved out of Court.
What do you need?
A litigation lawyer who is well acquainted with the rules of the Court and who will keep you informed about the process.
Top 7 things you
cannot get in court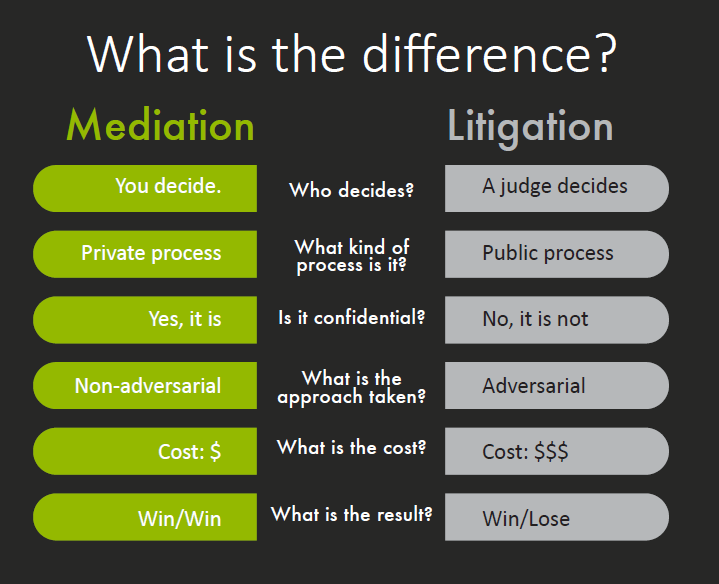 Child Support 
Guardianship
Spousal/Partner Support
Parenting/Contact & Custody
Responsibility for debts
Negotiation of legal separation agreement
Division of matrimonial property